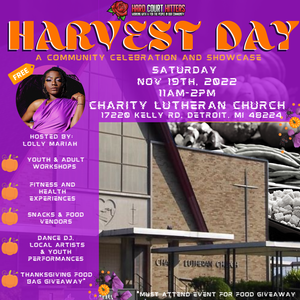 The Backstory
From Cancellation to Celebration 
After a cancelled promo show Lolly Mariah's Community Harvest Day was a success! 
 What's up my Lollies, My name is Lolly Mariah and I successfully curated a Community Harvest Day event in partnership with Hard Court-Hitters. The event was outstanding, but didn't happen without challenges. Imagine almost losing $400! 
Picture this! In October a Promotional group reached out to me about hosting a promo show. They sold me the dream. Talked about the multiple articles that I'd see myself in, the venue, the tickets I'd get for my fans, the large crowd, and so much more. They hyped up their connections and abilities to lift me as an artist, and may have been telling the truth, but of course, not without the hefty price of $400! 
Red flag #1 was bright and waving, because I am an artist that firmly disagrees with the pay to perform culture, and I usually get paid to perform, BUT… what I will pay for is promotion. The idea of the PR element of the package is what stood out to me. Being placed in multiple blogs is huge as an artist! So I told them, to follow up later. 
After a few days of thinking, I agreed to it, but only if I was able to get enough sponsors to cover it. I sought out sponsors as professionally as possible, but I was nervous. $400 is the most anyone has asked of me for a performance opportunity and I was starting to feel like my community needed me instead. Ignoring that feeling, I sent formal emails to my potential sponsors about this huge opportunity and even offered to mention them in my promo interviews and articles and have merch space on my one little vending table at the event. I was successful! So I locked in the show. Money sent! 
Time flew by and I didn't even have a flyer. How was I supposed to share with my sponsors that an event is happening in a week, without a flyer? I hadn't received any information on the DJ, the venue hadn't listed it on their site, and I didn't have any of the promised tickets to give out to my friends. I'm a Sag Sun Aries Moon Pisces Rising, so you know I had to peacefully light fire under the promo company's tail. I advocated for myself. I advocated for any artist involved. A Promo show without Promotion is not a promo show at all and as a paying client, I wasn't with it. Enough pressure busted pipes and the show was cancelled for various reasons. 
 That same October, Hard Court-Hitters non-profit 501c3 invited me and my youth artists to one of the many small-scale community events they put on. My Notes for Notes Detroit Studio youth artists had just performed at one of their events this past spring.  When I saw the email invite, I felt that I needed to partner with this organization on a community event, but I wasn't sure if I'd be able to raise all the funds necessary. I had just acquired funds for a promo show and didn't want to keep asking for money. Still, I put the Community Harvest Day Event Planning into action. 
I selected November 19th was to be the new date and created the flyer with my intentions for the flow. I still wasn't sure how I was going to pull all of the activities together, but I knew my community would have my back. And they did, even after 2 of my sponsors dropped when I told them about using funds for a community event instead of a questionable showcase. Somehow, we collectively made the event work with a tight budget 
On the day of the event, DJ Jungle 313 kept the vibes flowing and Dennis from Black Lake Entertainment made sure our sound system was show-ready! Brittney B Hayden opened the show up, the youth from Notes for Notes performed, Tecreshia shared fitness techniques, A Christian poet encouraged everyone, Torrey Gray gave an inspirational speech, I performed, and Hard-Court Hitters gave away so many prizes! Our vendors even gave away books, teas, health consultations, and more. 
The principles of unity (Umoja) and and collective work and responsibility (Ujima) were well shown in this Harvest Day Community Event. I am so grateful and fulfilled. This year I harvested the fruits of community work!
Youth Performance Snippett